Add a little twinkle to your fruit bowl with sweet star fruit! These dazzling yellow fruits are as fun to eat as they are delicious. With their uniquely graphic shape and bold, golden color it's easy to see how these botanical berries got their name.
Kids and fruit geeks of all ages love star fruit. The alluring shape of this smooth yet pointy fruit is a show stopper that also delivers on flavor. Star fruit is mildly sweet and tart, with a fresh crunch to its firm, watery flesh.
Sliced into a constellation across your plate, in salads, drinks and desserts, star fruit shines (and tastes) bright. Keep reading to learn all about star fruit!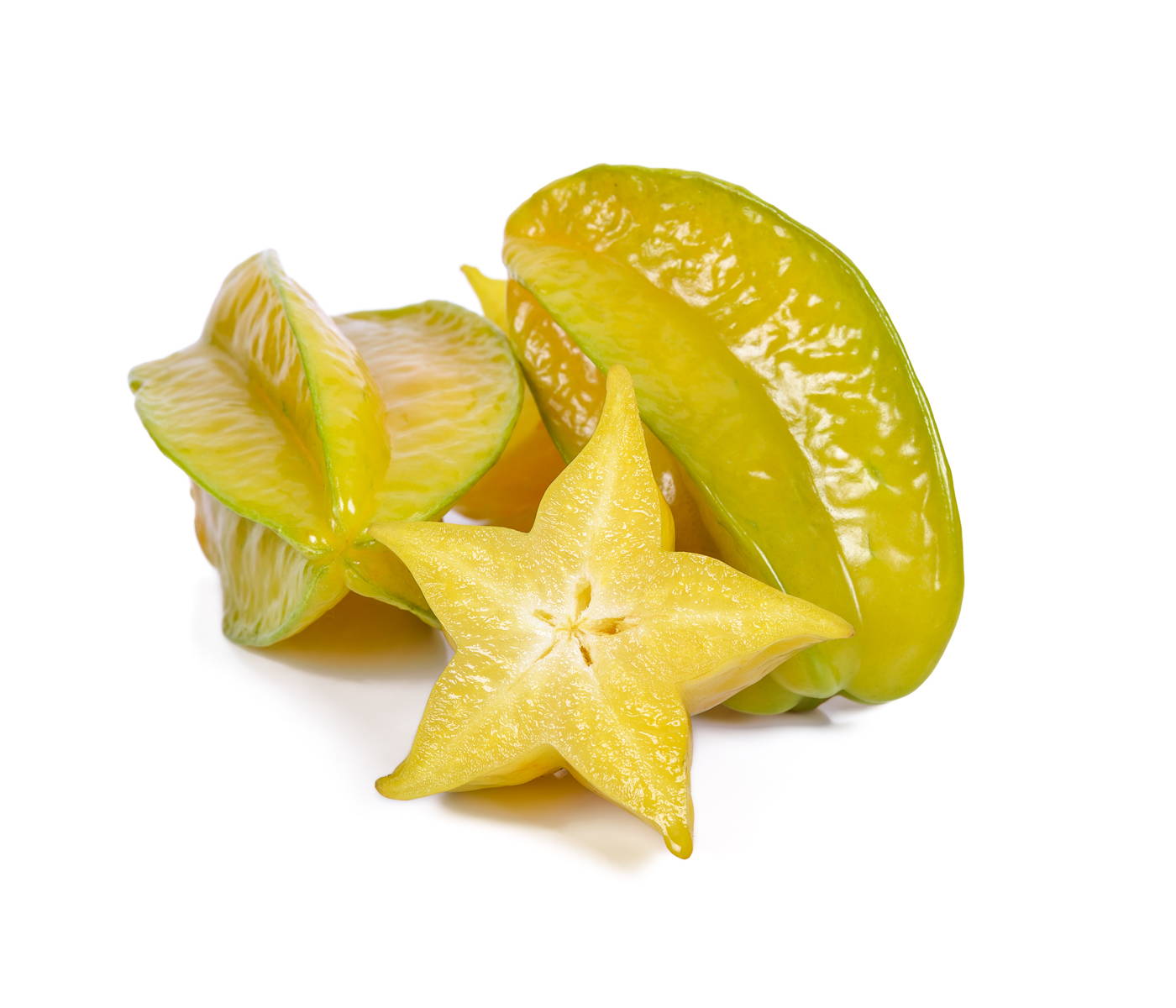 Star fruit is an unusual and difficult to find fruit in most of the United States. It's a striking specimen with a tropical flavor that's easy to love!
Botanically speaking, star fruits are considered berries and come from the averrhoa carambola tree. Sweet, sour and tender fleshed, star fruits are often described as having a citrusy flavor. Star fruit's flavor resembles a tart apple, pear, or grape with tropical notes. Its texture is firm and juicy giving it a wonderfully satisfying crunch. Star fruits are completely edible and often eaten raw, skin and seeds included.
Star fruits show they're ripe when their skin is bright yellow with a hint of light green around the thin edges. The tips of the ridges may even be slightly brown – this isn't bad, in fact, it just means it's time to eat!
If your star fruit is mostly green, it's just not quite ripe yet. Leave it on the counter at room temperature until the skin turns completely yellow. The astringent flavor of unripened star fruit is one you won't soon forget. Even though it's hard, we recommend being patient and allowing star fruits to fully ripen until most hints of green have disappeared.
Star fruits are known to be a good source of fiber and vitamin C. SInce they come into season in the late fall and early winter, star fruit may be a nice addition to your seasonal cold-prevention regimen!
While nutritious, your FruitStand friends highly recommend you speak to your doctor before eating star fruit if you have CKD or other kidney-related health issues. Several reputable studies show that star fruit in particular could have a negative effect on people that suffer from CKD.
Throughout Southeast Asia star fruit is used in medicine in applications from fevers to skin conditions and gastrointestinal concerns.
At FruitStand, we love star fruit for the same reason we love all fruit: the flavor. Sure, we're pulled in by the beauty of its unique form of the fruit, too. But the taste of starfruit is uniquely tropical, yet mildly sweet. It stands on its own as a snack, but also makes delicious juice, sweets and jams.
Where does Star Fruit Grow
Star fruit is native to tropical areas in Southeast Asia and the South Pacific. Also known as Carambola or Birambi, star fruits grow from the averrhoa carambola tree. These sunny fruits are oblong in shape, from about two to six inches long, with between five and seven ridges that give star fruit its iconic shape.
When is Star Fruit In Season
Just in time for sparkles and celebrations, star fruit is in season beginning in mid-autumn through early winter, roughly from October through December.
Whether a star fruit is certified organic or not will depend on the farm where it was grown. At FruitStand, we only partner with the best specialty farms for exceptional quality of organic and conventionally grown produce. When each harvest is available, we'll tell you whether the fruit is considered organic.
Still curious about star fruit? Send us your star fruit questions and unboxing videos on Instagram @Fruitstandcom!