The moment you get your FruitStand package of exceptional quality cherimoya (thanks to the small family farms we partner with), you're gonna want to get right down to work! Cherimoya is affectionately known by many names: the custard apple, "the most delicious fruit known to men" and dragon's egg to name a few. Whatever you call it, you'll want to know how to eat it. Immediately. It's one fruit kids and adults will absolutely love!
To know the flavor of cherimoya is to love it - almost to the point of obsession. It's nature's green egg-shaped creme brulee! Cherimoya is the favorite fruit of many because of the unique, creamy and custardy texture of its flesh and how it tastes. The flavor will bring to mind a mildly tropical, pastry creme taste of banana, papaya, pear, pineapple and coconut.
It's important to know that cherimoya seeds are hard, inedible and known to be toxic. Luckily they're on the large side, making the seeds easy to find and remove. Be sure to completely remove all seeds before eating cherimoya, particularly when serving it to children adding it to a smoothie.
Preparing cherimoya is easy, but takes a little patience and a sense of humor. There's no graceful way to eat cherimoya; there are hard, inedible seeds to separate and flan-like fruit to slurp up. That's what makes cherimoya so special to enjoy with kids and loved ones who won't judge you for getting a little messy in the presence of exquisite fruit.
Cherimoya can be eaten raw (without the seeds) or cooked into sweet and savory recipes alike. Add pitted cherimoya flesh to your morning granola, or evening ice cream! Raw cherimoya fruit is also a decadent addition to salads, pastries, desserts and drinks. Check out FruitStand's collection of cherimoya recipes (like an easy cherimoya ice cream - no special equipment required!) for more ideas on how to eat this legendary fruit.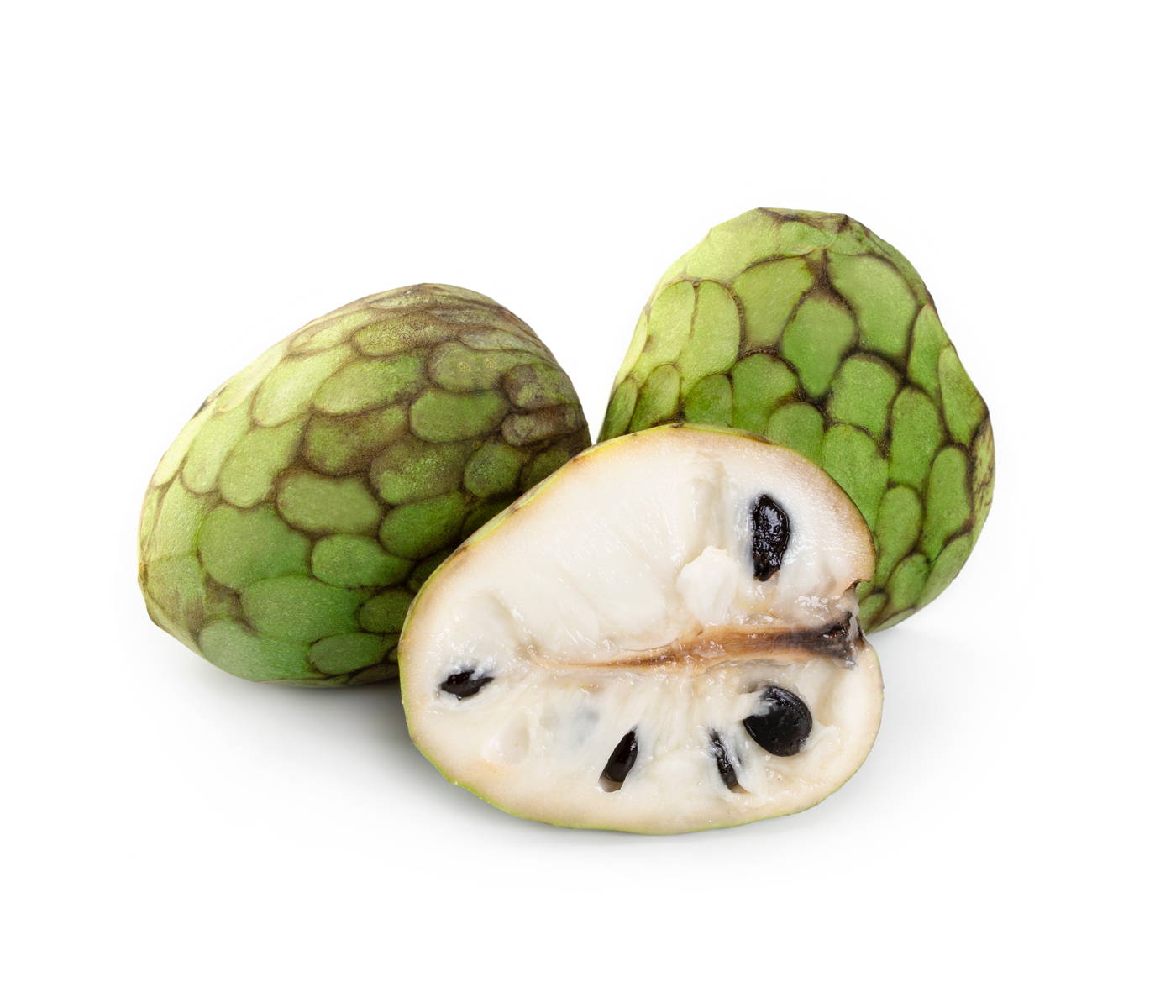 The first time you see one of these dragon egg-looking fruits you may wonder just how to eat a cherimoya. The cherimoya peel has a lot of texture but is surprisingly easy to cut with a sharp knife. Here is the easiest, most common way to to slice a cherimoya:
Slice the cherimoya in half longways. Then, carefully scoop out the flesh with a spoon to separate from the skin of the fruit. Be sure to discard all of the seeds as they are inedible and toxic.

Quarter the cherimoya by first slicing it in half longways. Then, slice each half in half longways again.
Once you've prepared cherimoya and somehow managed to hold back from devouring it, here are some great ways to add cooked cherimoya into more recipes.
Baking: Cherimoya can be baked into cakes, pies, custards, cookies and creams.

Blended drink recipes: If you're wondering what to do with ripe cherimoya, smoothies are a fantastic option. This is a fruit you should enjoy as close to cutting open as possible. Whether you have leftover cherimoya or want to use a whole cherimoya in smoothies, we recommend freezing it for best use.

Savory recipes: This tropical fruit plays perfectly with seafood recipes. Just try this

cherimoya with chile lime shrimp recipe

on the FruitStand blog!
Cherimoya has a short shelf life. Luckily, we have tips to help you enjoy your cherimoya at peak deliciousness for longer.  
Refrigerate immediately:

Cherimoya will keep fresh in the refrigerator for up to two days. Cherimoya tastes even better when it's chilled!

Countertop:

Cherimoyas are tropical fruit, and naturally prefer to exist temps above 55 degrees. They're ok to leave on the counter for about a day.

Freeze:

Cherimoya freezes beautifully. To keep cherimoya fresher for longer, either freeze them whole or peeled and pitted in an airtight container.
We hope you feel like a cherimoya eating expert now! Show us your favorite ways to prepare and eat cherimoya by tagging us @Fruitstandcom in your culinary masterpieces on Instagram!