The only thing we love more than sending you fruit is helping you know how to eat it! Whether you've just gotten your first FruitStand shipment of white fleshed dragon fruit or are a longtime fan of these big berries, we'll show you how to eat them. If you're wondering what the texture of a dragon fruit is, just imagine the inside of a grape, a pear and a kiwi all rolled into one flashy fruit.
First things first, dragon fruit is very easy to prepare. The outer peel of the dragon fruit is thick and almost leathery to protect the delicate fruit inside. Much like an avocado, the inner pulp of dragon fruit separates easily from the peel. All you have to do is gently shimmy a spoon between the peel and the pulp to easily scoop out the fruit. Once you have the dragon fruit removed from the peel, you're ready to get weird.
How to prepare your dragon fruit will depend on the recipe you're using. Luckily these lightly sweet, super fresh and surprisingly crunchy (that's because of those pretty little edible black seeds) dragon fruits are perfect right out of the peel! You can eat them raw or use them in an array of sweet and savory recipes.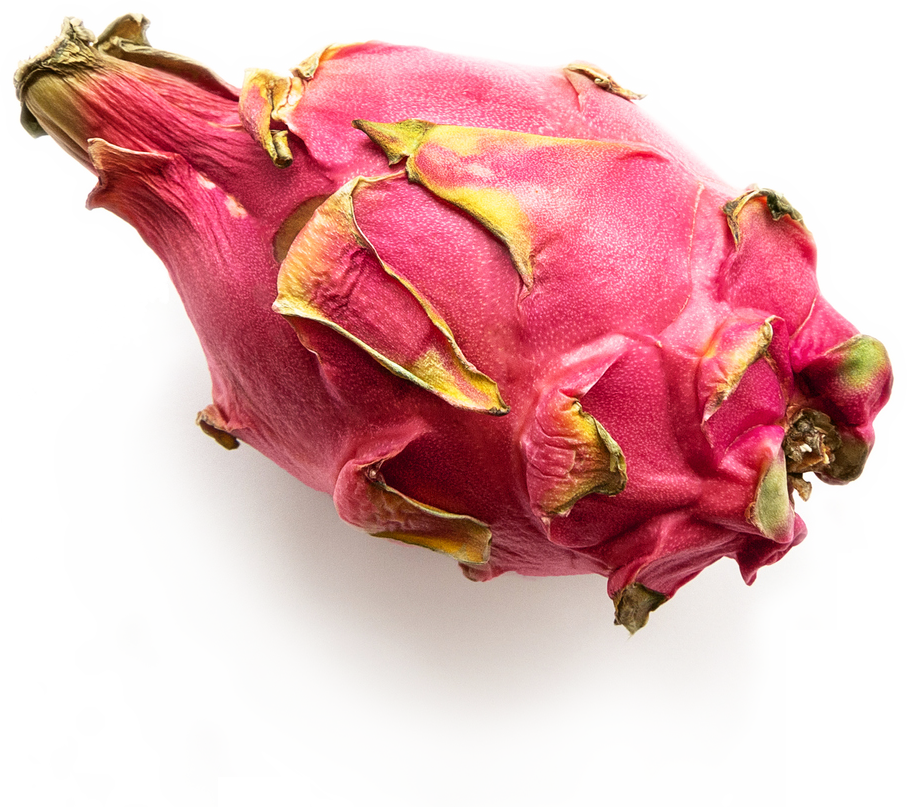 The first time you see a dragon fruit you may ask yourself, how the heck do I slice this? While the peel is thick, it's easy to cut with a sharp knife. The flesh of dragon fruit is delicate, but it's also sturdy enough to slice, dice or use a melon baller. This makes it perfect to use in garnishes, granola bowls, salads, skewers and salsas.
Here are some of the easiest, most common ways of how to slice a dragon fruit:
Slice the dragon fruit in half longways. Then, using a spoon, scoop the fruit out of the rind. The fruit is now ready to cut into slices or chunks. That's it! You did it!
Dice the dragon fruit into one-inch chunks as a snack or to add to your morning yogurt.
Using a melon baller, scoop out the white dragon fruit flesh into balls. Add them to salads, desserts or drinks.
You may also cut the dragon fruit into slices or wedges with the peel on for an impressive presentation. Just don't eat the peel as it's inedible.
The beauty of dragon fruit goes beyond its iconic color and shape. It's also quite versatile and can stand up to many cooking methods.
Here are just a few ways you can cook dragon fruit to enjoy different perspectives of its flavor profile.
Grilling: This summer fruit is begging to be sliced, skewered and caramelized at the next barbeque. You can also grill thick slices of dragon fruit along with your peaches and plums for a unique grilled fruit salad with a punch of crunch.
Baking: Dragon fruit can be baked into cakes, breads, chiffons and beyond.
Confection: The subtly sweet dragon fruit is delicious in jams, jellies and candy making.
If you can't juice it, is it even a fruit? Good news for everyone who swears by their juicer or blender, dragon fruit will be your new favorite drinkable produce.
Here are some easy ways get the nutritional benefits of dragon fruit in your drinks:
Juicing: Dragon fruit should be removed from the peel before juicing. Then, simply feed the pulp into your juicer for a sweet and floral taste with a healthy dose of omegas from the crunchy, edible seeds. Dragon fruit tends to play well with other produce like pear, pineapple, strawberry, watermelon, ginger, kale, spinach and cucumber.
Smoothies: If you're wondering what to do with ripe dragon fruit, smoothies are a fantastic option. This is a fruit you should enjoy as close to cutting open as possible. Whether you have leftover dragon fruit or want to use a whole dragon fruit in smoothies, we recommend freezing it for best use. To prepare your dragon fruit for smoothies, slice the fruit into one inch chunks. Freeze them on a cookie sheet with space in between each piece. Once frozen, store them in an airtight container in the freezer. You can easily pop frozen dragon fruit cubes into smoothies!
Water: Dice up or melon ball pieces of dragon fruit to add to your water bottle along with fresh herbs like mint for an eye catching and delicious refresher.
We hope you feel like a dragon fruit eating expert now! Show us your favorite ways to prepare and eat dragon fruit by tagging us @Fruitstandcom in your culinary masterpieces on Instagram!