Once you get your mangoes, we know you're going to want to get straight to eating. And who wouldn't? Mangoes are deliciously sweet and juicy with the perfect amount of tartness. Once you start eating, you won't be able to stop and you'll do everything you can to eat mango as much as possible.
Mangoes are the national fruit of India, Pakistan, and the Philippines where they go by the nicknames King of Fruit, Apple of the Tropics, and Fruit of the Gods. They arrived in Hawaii on the ships of Captain John Meek in 1824 and grew so quickly in popularity that the islands now go into mango fever from May to October, when they are in season.
Mangoes come in a variety of different hues of yellow, red, and green. There are hundreds of different varieties. Their smooth leathery skin protects a tender and juicy orange flesh much like that of a peach. The flavor ranges from tropical flowers to more citrusy notes while many people also find notes of peach, coconut, caramel, or vanilla.
The skin of a mango is inedible as is the large seed pod found at the center of the fruit. If you haven't ever tried mango, getting started can seem a little daunting, but once you know how to cut them and what to expect, it's very quick and easy. Keep reading to learn how!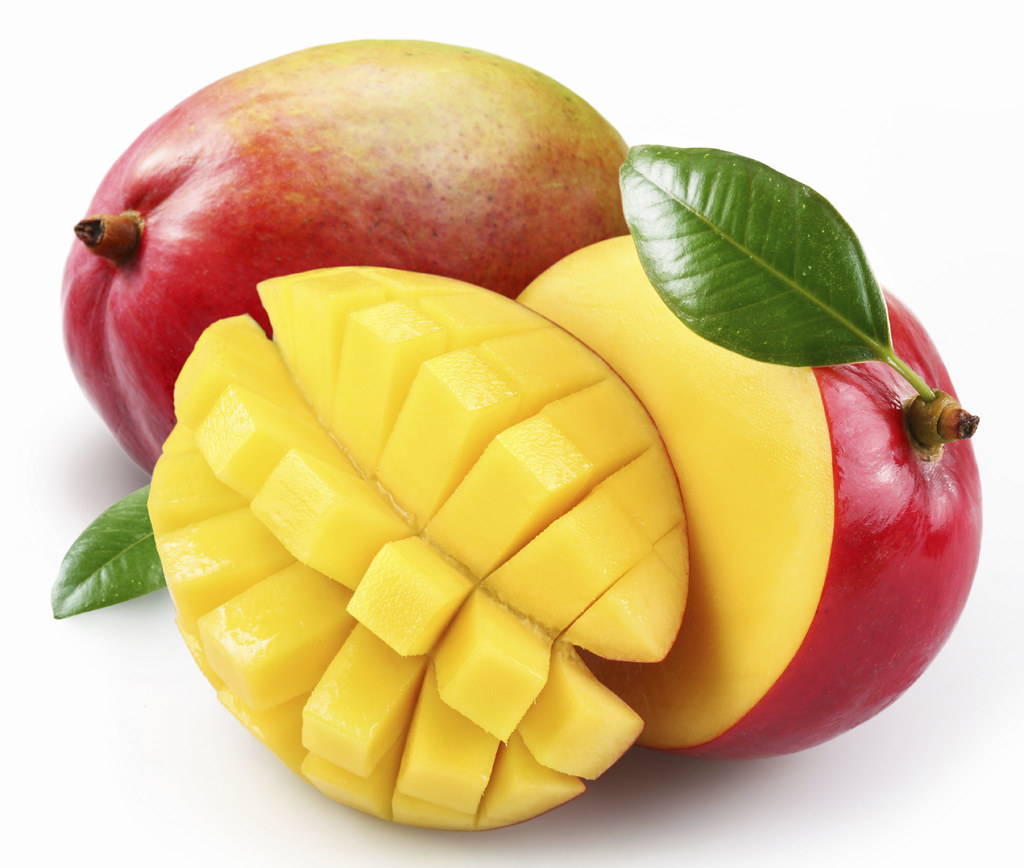 Both the skin and the large seed pod at the center of the mango are inedible. Follow these simple steps to learn how to remove the skin and cut the fruit away from the seed:
Using a peeler, peel the skin from the mango and toss it into your compost or green waste. Make sure to keep your peeling shallow so you don't lose too much of the fruit.

Now stand the mango vertically on the cutting board and, with a sharp knife, cut the sides off from top to bottom, avoiding the seed in the center. If you hit the center, just adjust your cut a little farther out. This should leave you with 2 fairly big pieces.

Now trim off the rest of the fruit around the seed pod and discard both it and the skin.
That's it! It's really easy. Now you have all the fruit ready to slice, dice, or toss into the blender for your smoothie.
Mangoes are incredibly versatile, so while they are a no-brainer when it comes to smoothies, ice cream, or fruit salad, they can also stand their own alongside savory and spicy dishes. That is, of course, if you don't just stand at the kitchen counter and eat the entire fruit right then and there.
Mangoes are a perfect addition to your normal routine, whether you add them to your smoothies, or add them to your yogurt, oatmeal, or cereal. In India, they serve a delicious type of smoothie called a Mango Lassi that is simply mango, yogurt, water, and spices.
Because of their sweetness, Mangoes are an obvious choice for desserts. It's no wonder that Mango is a popular ice cream flavor. You can also top your ice cream with fresh mango. Many people puree mango to bake cakes or other pastries. A common dessert you will find is Thailand is Mango Sticky Rice.
It goes without saying that mango will be the star of any fruit salad. You can also add it to your green salads as it pairs nicely with savory flavors. Try it in a salad with some smoked salmon!
Mango is a common ingredient for chutneys and fresh salsa because of its ability to balance out spicy and savory flavors. You can even add fresh mango, mango chutney, or mango salsa to your next cheese plate alongside rich, soft cheeses.
And if you thought it couldn't get any better, we even have something for the barbeque lovers. Mangoes, much like papaya, contain an enzyme that breaks down proteins. For that reason, mangoes are often used as a marinade to soften tough pieces of meat before cooking. Try a mango based marinade next time you fire up the grill. In addition to the great flavor, the sugars of the mango carmelize as the meat cooks to make your taste buds water.
We hope you love your mangoes as much as we do. If you have any more questions, check out our FAQs. And if you're inspired to get to cooking, take a look at our mango recipes.