Turmeric, or Curcuma longa, is a member of the Zingiberaceae family along with ginger and heliconia. It is thought to have originated in India where it is called haldi, and has been used in Asia for thousands of years. It was first used to dye clothing and textiles.
It was such an important part of the culture that as the polynesians made their journeys in their wa'a—hand-hewn sailing canoes—they would bring turmeric with them, planting it wherever they landed. It is one of the 'canoe plants' that arrived in Hawaii, where turmeric is referred to as 'olena, which translates to yellow.
Ground turmeric is one of the main ingredients of curry powder, giving curry it's beautiful color. Fresh turmeric, though, will have a flavor that is brighter, more aromatic, and slightly less bitter than its ground counterpart. It will add a warm spicy flavor to any dish and a beautiful yellow-orange color.
Turmeric rhizomes look much like ginger but are a bit more orangey-brown. The inside color is deep yellow, orange, or reddish orange.
We think you're absolutely going to love your fresh turmeric. It's so easy to prepare, and with a little bit of practice, you'll be a pro! Keep reading to learn how!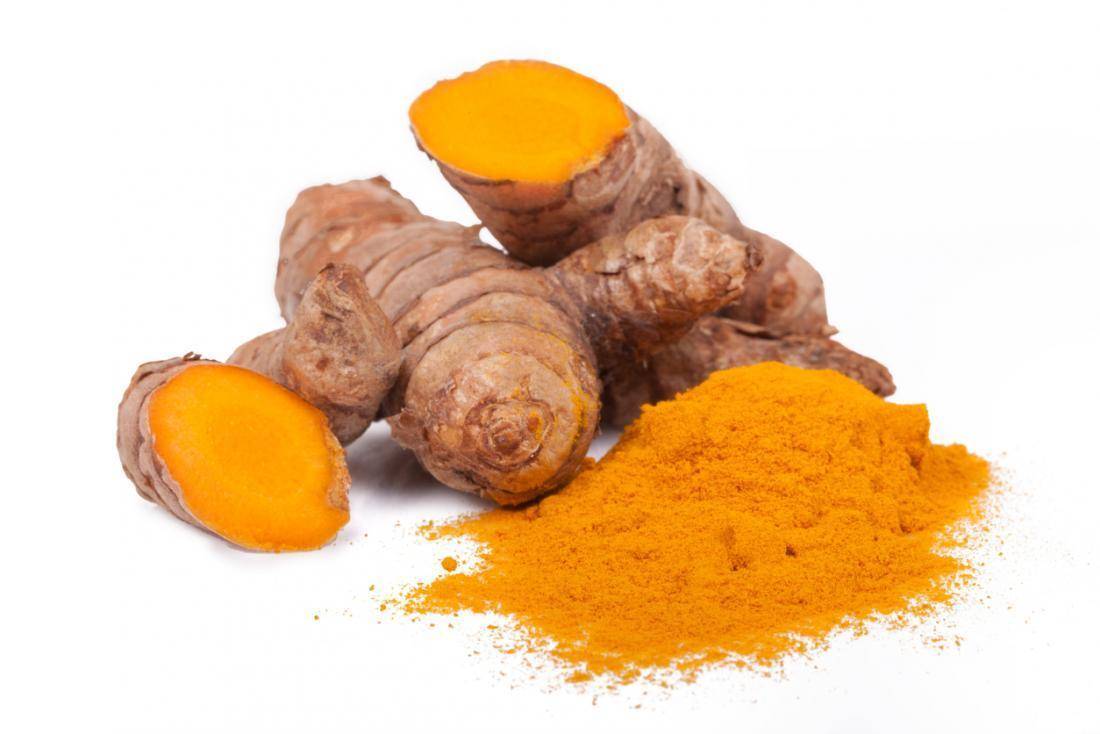 The first thing to know when you're working with fresh turmeric is that It will stain your fingers and fingernails and really anything it touches. You will want to wear an apron and—if you care about the color of your hands—some gloves. Make sure to use a cutting board that you don't mind having some stains on it.
With all that ready, you're ready to go.
Peeling
It is not necessary to peel the turmeric rhizome, but some people prefer it that way and some recipes may call for it. Simply use a vegetable peeler and lightly peel the thin papery skin. You can also use a paring knife—making sure to cut away from yourself— and slice or gently scrape off the peel. Be careful not to peel too deeply and lose a bit of the inside. We recommend peeling only the portion that you plan to use.
Now you can grate or chop the turmeric, depending on your recipe or preference:
Grate
Use a fine grater and grate the amount you need, storing the rest. This will leave a bit of sticky orange residue on your grater. Scrubbing with hot soapy water should remove.
Chop or Slice
Use a sharp knife and take extra care to not cut your fingers. Chop the turmeric to the size you prefer. For teas, you may want to cut into thin slices. To combine with veggies, you may want to chop into cubes.
Now that you know how to prepare turmeric, keep reading to learn about some tasty ways to use your fresh turmeric!
With such a wide flavor profile, you can combine turmeric with other warm spices like ginger, cardamom, and cinnamon. You can take it in a more savory direction by combining in dishes with cumin, coriander, mustard, and black pepper.
Cooking With Fresh Turmeric
Fresh turmeric will spice up any dish and add a wonderful color. Curry is one of its principle uses but here are a few other ideas:
Mix mashed grated turmeric with ground black pepper into softened butter. Then melt it over grilled fish or veggies.
Chop or grate fresh turmeric and add it to rice, quinoa or other whole grains before cooking.
Add chopped turmeric to a stir fry or scrambled eggs.
Add a bit of chopped or grated turmeric to your butternut squash recipes.
Add grated turmeric into a veggie soup or stew.
There are several nourishing ways to drink turmeric:
Steep into a tea with ginger and black pepper
Simmer in golden milk
Blend into a smoothie
Juice with other fruits and vegetables
Fresh turmeric is such a special little rhizome that we think you are absolutely going to fall in love with. We encourage you to use the suggestions above and also get creative with it! It's a diverse and healthy way to add a bit of flare to your cooking.